La steel open wagon
The La was my fist attempt at scratchbuilding NZR wagons. It seemed easy - just a box without a lid, a lip around the top, and some door and end detailing.
From the drawings cut out sides and ends from plastic sheet then add the detail parts using various sizes of flat and angle plastic strip. The Plastruct or Evergreen range of plastic strips makes this job so much easier.
The trickier bits were the small domes on the ends for the inside tie-downs. In the end these were made from thin slices of platic rod of the right diameter, and a small semi-sphere carved/filed from the end of a plastic rod.
Just make as many ends as you need, two per wagon. Didn't fancy making lots of these so decided to just make a master, then mould and cast.
If you're not in to moulding yet, just ignore those bits.
Master end. Cutout is for a Kadee #5 coupler box
With the angle iron running the full height, the channel strip headstock was included, (with gap for coupler). That meant the use of a two-part mould.
A now very worn out mould after producing 50 or so ends - enough for 25 wagons.
This is what happens once the mould starts deteriorating.
Note the discolouration, and chunks missing.
And because I wanted lots of Las, just the one master side was made and a mould as well. Could have tried a one-piece mould but feared the sides and ends would end up too unrealistically thick.
Master side from sheet and strip plastic, and a couple of knobs, stuck to glass for producing a mould.
And here's the La8 side one-piece mould.
And this too is very well worn after 30 or so casts. Time for a new one if required.
Or if you are happy, make as many sides and ends as you need from plastic sheet and strip to make as many bodies required.
Use your 10ft chassis of choice, but for the floors I used my own scratchbuilt chassis castings that include the floor, solebars and axleboxes.
So it's now just a matter test fitting and glueing the parts together. The cast parts after a light touch up with the file here and there fitted perfectly. This was probably due to being extra extra super careful in measuring and cutting the masters. It really does pay off spending extra time on the masters. A pleasant surprise though!
From a second batch, a body assembled with cast solebars attached to a cast 10ft chassis floor,
ready for a clean up. Note the axle boxes have been fitted with 2mm top hat brass bearings
and that by now the moulds are worn so parts are not as crisp as the first batch.
And here's a few more (the second batch) awaiting a cleanup - a little filling, filing, and sanding where appropriate.
The white chassis floor (top right) is from the first batch using a different type of resin.
It's at this stage where weight should be added to the undersides of the chassis. These wagons are very light - even once wheels and couplings are fitted they only weigh 12.3 grams.
To bring them up to a reasonable running weight it was neccessary to fill most of the spaces between solebars with chopped up bits of flattened lead sinker araldited or superglued in place.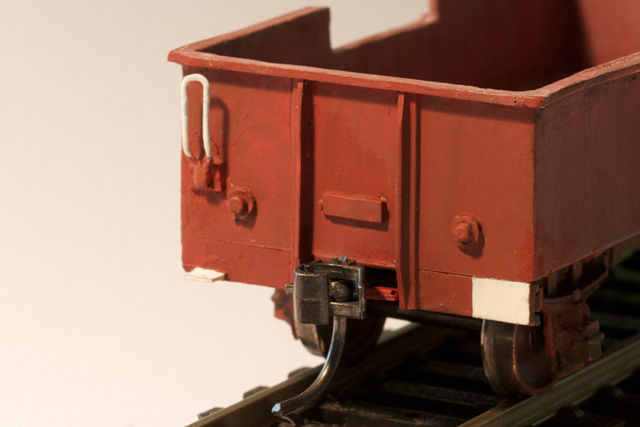 Details are added such as handrails from wire, and shunter's step from thin plastic strip.
(From the first batch)
And a brake lever from strip brass bent and shaped.
Brake ratchet made from a couple of scrap plastic bits carved and stuck together.
Must make a mould for this tiny part as every wagon will need one!
After some rough painting and weathering (these wagons became quite scruffy later in their lives),
here's a pair completed just waiting for decals. Oh and brake cylinders.
And don't look too close! I must clean these up a bit better before painting.
(Again, from the first batch)
The first batch awaiting decals and brake cylinders. Very pleased mostly.
---
In summary
This was my very first attempt at scratch-building NZR, and was really pleased with :
Capturing the look of the La and its huge variety of finishes, and being able to produce a "kit" of easily reproducable parts to quickly churn out a rake of wagons. Cheaply too. All of which was the aim of the exercise.
Cost is a little hard to judge but for 35 La and Lc open wagons, it cost two sets of 500gm silicone and resin (more than normal waste because of first attempts!), plus some micro-strip brass, plus wheels, plus bearings, plus couplers, all worked out approximately NZ$15 per wagon. Oh, plus a little paint and some decals.
Not so happy with :
The chassis. Accuracy and lineup of axleboxes and solebars, including wheel clearances. Had trouble with the axlebox mould on the bearing side that required re-drilling out the 2mm holes for the brass bearings. So not happy with the two part mould of the solebar. Needs a new master, but thinking about alternatives. Also the rivet-counter is trying to come out and the axleboxes really need the upper leaf springs for the later model chassis.
Lessons learnt here are going to be applied to the 4-wheel chassis Mk II.
---
Home