E class 4-wheel works wagons

These were non-revenue works related wagons used for transporting things like wheels, sleepers, and the iconic workman's hut.
E wagons were usually "built" from written-off or retired wagons, using their four-wheel or bogie chassis and sometimes the body as a basis.
For example, the creosote tanker at the top of the page "E3703 started life as a wooden bodied insulated meat wagon W606 built in 1934. In 1964 it was rebuilt to its current form". (To quote the Silver Stream Railway site).
Most of the four-wheelers appearing in the '60s looked to have been of 8ft 6ins or 10ft wheelbase origin like early J, K, L, and X class wagons. Thirteen feet wheelbase E wagons didn't appear until the 70s, generally from Hc, Jc, Kc, Jc, Hc, and Xc wagons.
There were many different customisations and variations and unless you want to model a specific E prototype, modellers' license allows us a little leeway in this area without being too non-prototypical.
Had no real intention of making any of these but always liked the look of E3703, the 4 wheel tank wagon at Silver Stream Railway, as well as the iconic workman's hut on a 4 wheel flat, both seen at the top of this page.
I ended up with some miscellaneous leftover resin castings and not liking waste, saw an opportunity or two.
E wagon 1
For one wagon I ended up with an Lc-2 body minus its sides after those were stolen for the Rb projects, and so used that modellers' license to create a 4-wheeled E flat wagon that could have been. . .
With some 1mm angle strip added to the edges of the ends and a few details added such as sole-bar fillets, headstocks, and smothed over Tichy stake pockets, we have a slightly short-bodied, high-ended Nc for carrying anything works-related like wheel-sets, bogies, or the obligatory workman's hut.
I didn't like the look of the Tichy pockets once fitted. They were too short, and a tad small, so were removed and replaced with some carved 'U' channel strip as per the Ub and Ud projects..
(Above and below) High-ended Nc-looking flat wagon under constrction
- stake pockets need filing down thinner and more into shape.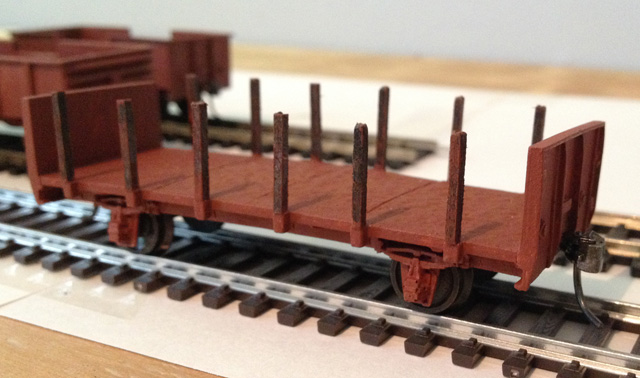 And finally with its 13ft wheelbase solebars, stakes cut down from a Frateschi flat car kit,
and a base coat of paint
E wagon 2 - an NR class maybe?
For another wagon I had just a cast 21ft floor with 13ft chassis - again the result of Lc sides being stolen for the Rbs before the Lc-3 corrugated ends had a chance to be added.
Thin strip plastic was added around the perimeter of the floor to give it a nice edge, followed by some headstocks. Just a plain flat wagon.

To finish it off we could add a workman's hut or, a pair of bolsters with stakes to represent a "runner" or shunters' wagon. Or turn it into a "wheel" wagon with the addition of some racking. We'll see. . .
Basic flat E flat wagon under constrction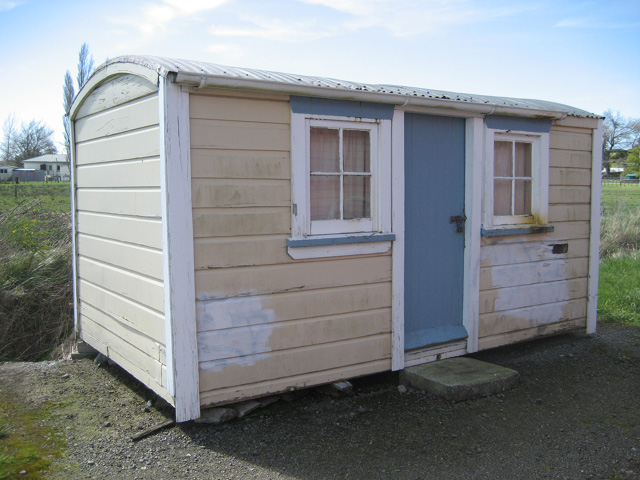 Another job to add to the list - model a hut like this one at Ormondville Station.
Great practice for later when time comes for layout buildings.
Now, what about that creosote tanker?
Was keeping an eye out for BR bash candidates and picked up these quite cheaply on a couple of TradeMe auctions. . .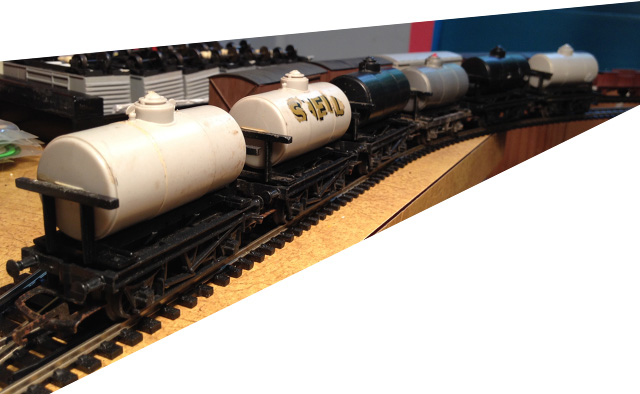 Old Tri-ang OO scale 4-wheel tank wagons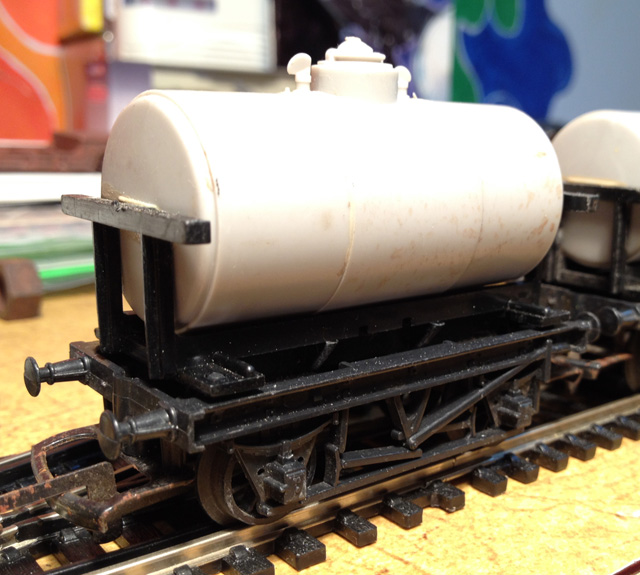 These old Tri-ang tank wagons seem ideal. I don't have a scale drawing of the aforementioned E3703 tanker but putting the ruler over these antiques came up with surprising results :
The 64mm (scale 16ft) chassis is exact same size as an old NZGR W wagon from whence E3703 came
Wheelbase is 38mm (9ft 6ins) - close enough to 10ft, although I'd use my own solebar/axleboxes and wheels
Tank is exact same size diameter as a Uc-1
Take off the ends of two tanks and stick them together, it's exact same length as a Uc-1, 2, or 3
In fact with two tanks stuck together you have a Uc-3, although domes are slightly smaller diameter.
More to come. . .

Check out reference material. There are lots of variations and opportunities to add some "different" rolling stock to your roster.

References
---
Home