Ud class (Ud-1) bogie steel well wagon

Another one of those bright ideas that was a bit more work than first thought. But this one was worth it in the end.
Saw an old Triang bogie well wagon on TradeMe and thought "that looks a lot like a Ud!" Well, mostly.
Before - an 00 scale Tri-ang R118/R213 Bogie well wagon
Credit - TradeMe and user dbh1
The Ud-1 drawing from Fred Lee's wonderful NZR Freight Rolling Stock Plan Book Volume 2 was re-scaled to 4mm = 1ft and sizing was checked against the Tri-ang body - the Ud body was narrower and shorter.
After removing the bogies, the Tri-ang body was razor-sawn down the middle twice to take out a thin slice, and a section taken out of the middle to shorten overall length.
Once all set and dried and cleaned up, then it was a case of adding ends from plastic strip, stake pockets from carved channel, and chain tie-down loops and a brake lever from brass micro strip, as per the Ub project.
And just like the Ub, some Kadee couplers and arch bar trucks with HO scale 36" wheel replacements and we end up with a reasonable looking Ud wagon.
After - NZR Ud class bogie well wagon. Ud1500 was the only eight-wheel, Ud-1 built in this class
Just need some chain and stakes to finish off. And a load for this one day - a huge drying cylinder section as seen in Fred Lee's book looks great. As does the drag-line crane along with its running wagon seen on someone's Sn3.5 layout, somwhere. . . . Just marvellous!
Found just the things while trawling for 76th (OO) scale vehicles : Langley Models and check under OO scale kits, OO Cranes, Heavy plant & Road Machinery - RW1-RW21.
Ruston Bucyrus 19-RB cranes - courtesy of the Langley Models website.
And here's a real Ud, no load but with stakes :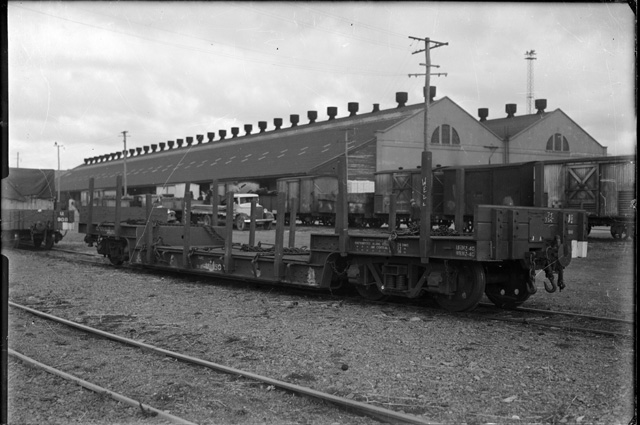 Rolling stock, Ud 1500 well wagon, in the railway yards at Wellington Railway Station.. Godber, Albert Percy, 1875-1949 :Collection of albums, prints and negatives. Ref: APG-0967-1/2-G. Alexander Turnbull Library, Wellington, New Zealand. http://natlib.govt.nz/records/22586993
---
Home