Ub class bogie steel flat wagon

This one was a bit of a mistaken challenge to myself, and before I discovered the "Ozzie" method for underframes.
One day I was clearing out some old computer equipment and came across a bunch of those plastic blanking plates for 5-inch bays in old tower PC cases. Mmmm, (with recycling always in mind) they look like they could become flat wagons with a bit of narrowing. The 150mm length was perfect for an OO scale Ub wagon chassis of 37ft 6", so I'd give one a try.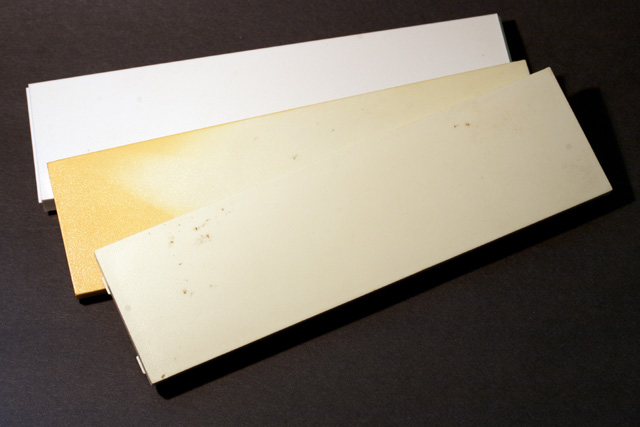 Referring to measurements from my re-scaled 4mm drawings, two razor-saw cuts down the middle of the plate soon sorted the width and the two halves glued back together using polystyrene cement and laid face-down on a sheet of glass to ensure a flat deck finish.
Once set and dry for at least 24 hours, and the joint cleaned up, the position for bogie mount points (screw-holes) was carefully measured and marked on the underside.
Then there was a lot of cutting and grinding with the Dremel to allow room for wheels and a coupler box, leaving a "bolster" where the bogie was to be mounted.
Next are ends from plastic strip - roughly sand the "planks" to give a bit of wood grain.
Fourteen stake pockets, plus another eight - four for each end where the ends drop in - are carved and filed from plastic channel strip, something to do while watching the telly. Must try the Tichy detail parts for these instead one day.
Then following drawings and photos, the angle-iron truss rods are fitted from angle plastic strip - still have to add the middle two.
Also relevant air tanks and bits are carved from old kitset sprue and glued on the underside.
Scribing steel plate joints on the deck helped with the overall look.
Chain tie-downs - 12 of these - and a brake lever were all made from bent brass micro strip.
Brake ratchet was a couple of scrap plastic bits carved and stuck together.
Finally (almost) a pair of Kadee couplers and #501 arch bar trucks (with 36" HO scale wheels don't forget).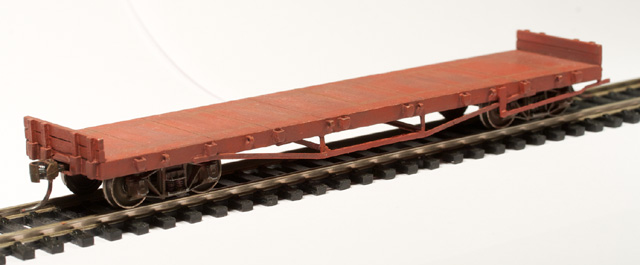 PC case 5" blanking plate to Ub - almost there.
Still needs decals, and two extra trusses from angle strip
Along with the extra trusses, just need to add some chain and the stakes and hunt down an appropriate load. Love the look of these wagons loaded high with sawn timber. Or maybe a couple of period cars or tractors.
In the end it was a lot of work hacking the raw material into shape so in future it will be Ubs from "Ozzie" method chassis!
---
Home