Making corrugated material

One way of making corrugated roofing/cladding
I needed a corrugated material for roofing and cladding the Gracefield goods transfer shed. After several interweb searches I mashed a couple of methods to produce just what I wanted.
1 Raw material
Cheap aluminium trays you can buy anywhere. Ordinary aluminium foil sold in rolls is far too light and fragile.
2 Cut foil in to sections
The trays I used are the deeper ones, and are cut in to five sections - the ends, the sides and a bottom.
3 Smooth it all out
The five sheets are gently smoothed out so as not to cause too much warping and stretching. Initially I used a finger or thumbnail then looked for something else to do the job. A smooth something like a piece of wood. I found a smooth pebble but thought it might be too hard, but on testing gently, it worked fine.
4 Embossing the foil
After smoothing the foil, it is cut into strips of width to match the length of corrugated sheets required.
Then each strip is then placed at right angles on a sheet of corrugated embossed Evergreen styrene sheet (in this case it was 2mm spaced metal siding) and gently pressed groove by groove using a rounded end piece of an appropriate sized styrene rod. Initally I had used a fingernail to press the foil down in to the grooves, but the rounded plastic rod is far easier.
The process tends to curl the foil so just turn the strip over and gently go back over some of the grooves on the other side to coax it back in to shape.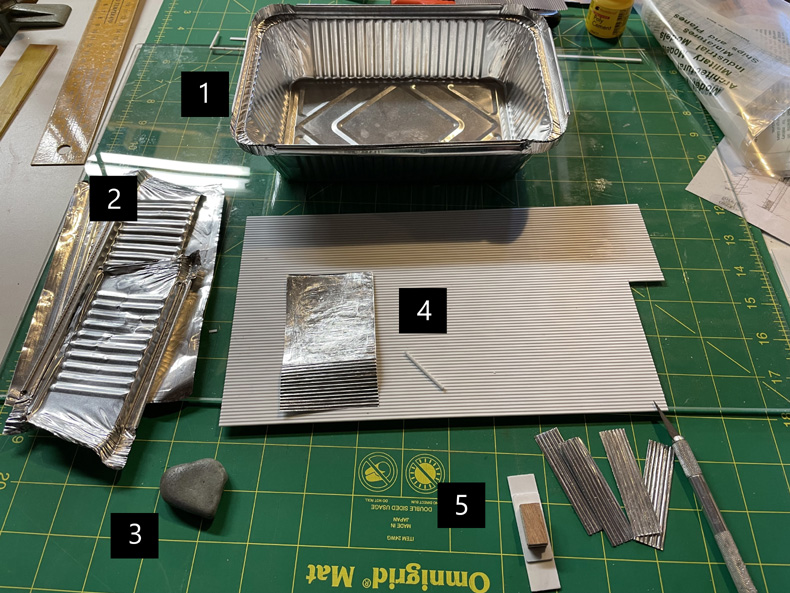 5 Cutting off the individual sheets for cladding
Once the strip is done corrugating, I use a template to hold the strip in place while cutting the individual sheets off the strip. The template is made from a correct width strip of the corrugated embossed Evergreen sheet that has a couple of bits of scrap glued on the back to act as a handle.
Once cutting is complete and if required, the individual sheets can be tidied up using the corrugated sheet surface.
And yes, these sheets are super long size on purpose.
---
Back to Goods transfer shed

Home